Hah!! Finally I've
solved
the main reason why I'm not using blogspot before this but xanga:
I FINALLY GET TO PUT LARGE PICTURES
IN BLOGSPOT NOW!!!
.
.
.

NAH!!!
SCARED OR NOT!?!??! :D

Thanks so much to
SongKeat
who taught me how!!!
(Why didn't you teach me earlier!?!?!?) :P
Bye bye to laggy xanga and hello to blogspot baby!! :)
I've missed out blogging so many gatherings and happenings lately I've lost count! First was JSPO gatherings, olahraga at Sega, countdown 2009 with Joe & SongKeat before sending off Xinyun to Sydney!
Most unbelievable thing that happened during JSPO Anniversary was we 05' with 8 years friendship talked about our little secrets which really made our day. Listening to lovely buddies talking about thoughts and feelings that weren't mentioned before was kinda funny yet soothing.
It's that kind of feeling when we felt as though we are being cared and understood.
To be honest, I don't really like talking about myself ( yeah you may be in shock aren't narcissistic people supposed to be used to talking and self-praising oneself you are thinking right?!! Call me an exception>_<")
Anyway back to the topic. It was kinda awkward initially telling my buddies that for the very first time but after telling it out, it feels kinda great I might say :)
Other than that, I've been lazing around at home playing Wii with Yang boy at home which is burning part of my body fat, I hope :(
I've been gaining too much weight even before I go off to Aus can you freakin believe it somebody save me!!!! :( :( :(
The Wii game I've been playing: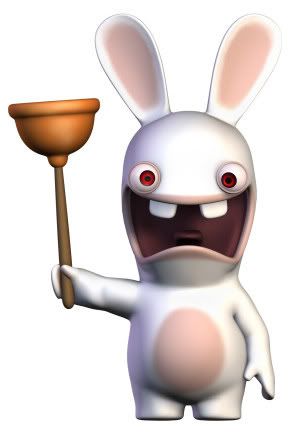 DON'T YOU JUST FEEL LIKE SLAPPING THIS CUTE LITTLE RABBIT!
Yes I'm a violent person!
*slap*
Hah! THe cutest thing ever me likey!

RABBIT KSIAO!!!
Too cute can die!!+~+
P/S: eeks I still didn't manage to snap and post any pix of me with my new hairstyle as promised >_<". Will do it 2mr I hope! Blame the Wii that makes me look like a siao zha bo after playing it =-="